Dienstag, 1. Januar 2019
Meteorological report for December (Maribor)
beekids, 11:59h
In December we had a weather that was too hot for this season. The average temperatures were very diverse at that time, for a few days we had average temperatures below zero, a few days above zero, and this was repeated all month. A drastic trend of falling rainfall continued.
The difference between the highest (December 4) and the lowest (December 16) measured temperature in the month was as high as 26.4 °C. This is not such a big surprise, given the very high temperature fluctuations throughout the month.
The average monthly temperature was significantly higher than the average of the period from 1981 to 2010 – it was 1.09 °C, and it was 0.29 °C higher than the long-term average. The long-term average for December is 0.8 °C in Maribor. The average temperature fluctuated throughout the month. The difference between the average temperature of the coldest (December 16) and the warmest (December 4) day was 12.21 °C. The differences between night and day temperatures were reduced. The difference ranged from 1 to 15 °C, and on average the differences were greater than in November. In December the difference was 9 °C (In November 6 °C).
In December, the daily average temperature was fifteen times below the average of the period from 1981 to 2010 (0.8 °C). The maximum temperature was six days above 10 °C, one day above 15 °C, and only two days below 0 °C. The lowest temperature in December was -10.5 °C, and the highest temperature was 15.9 °C. In the last month, the average temperature dropped by 0.06 °C in relation to the long-term average.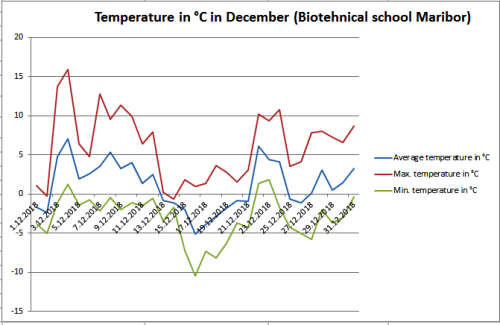 Precipitation data show that there was very little precipitation in December, which has been happening for more than half a year. In December, only 19 % of the precipitation dropped, as is the long-standing average. The measuring device detected 11.6 mm of precipitation, which is much less as long as the long-term average (61 mm of precipitation).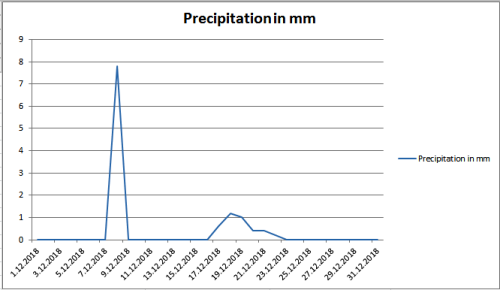 The average relative humidity in December was 81.98 %, which is less than in November. For December, there was a significant fluctuation in relative humidity (between 63 % to 95 %). Interestingly, only 88 % of moisture was in the air, on the only real rainy day of the month.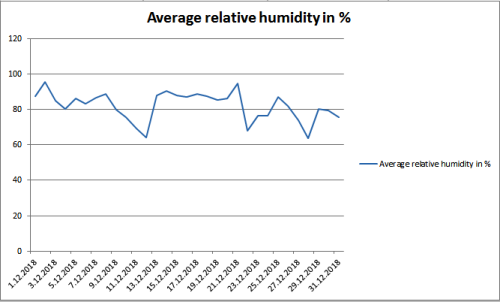 ... comment